Thank You for browsing!
THEN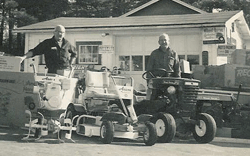 Our history dates back to 1952 when Jim Smithson began a part time back yard business known as The Duxbury Fix-It Shop. In keeping with the neighborhood Mr. Fix-It, Jim fixed everything from bicycles to vacuum cleaners. Route 53 was a quiet road leading to Cape Cod. Jim and his wife Mary operated Duxbury Fix-It Shop through the years growing in size and functionality. By 1957 with the increase in popularity of outdoor power equipment, the business converted from part time, seasonal, to full time, year round. Jim and Mary retired in 1973 and the business was taken over by their daughter and son-in-law, Arlene & Joe Raftery, who ran the business until 1981. Fred Simmons assumed ownership in 1981 and Fred's Duxbury Fix-It Shop, Inc. was born. It could be said that Fred grew up at Duxbury Fix-It Shop, starting here in 1970 as a part time floor sweeper while still in school. Fred's apprenticeship began under the tutelage of Jim Smithson and continued under Joe Raftery. Fred Simmons knows the power equipment business from the ground up.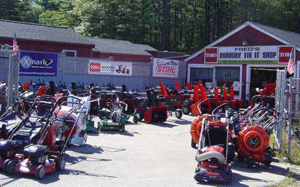 NOW
The neighborhood has changed over the decades; Route 53 is no longer a quiet little road but rather a major thoroughfare. The fields and farms are mostly a memory. What has not changed is Fred's Duxbury Fix-It Shop's commitment to be your source for quality outdoor power equipment. Our selection for commercial contractors and residential users include the premium brands Cub Cadet, Toro, Ariens, Stihl, Husqvarna, Echo, Exmark, Wright Stander, and Little Wonder among others. Our experienced and knowledgeable sales staff is here to answer your questions and assist you with the selection of the proper equipment for your needs. Actually try out a machine today. A one time yard project? No problem! Browse our full line of rental equipment for your needs. As our name implies we offer service and repairs for your outdoor power equipment. Our service staff has been factory trained and is authorized by the various manufacturers to perform service or administer any type of repair necessary to keep your outdoor power equipment running at peak performance.
Our Service Department is supported by our Parts Department, which is one of the largest parts departments in the area. The combined resources of our Service and Parts Departments allows us to keep your power equipment running and in prime condition so that it can serve you and make you more productive now and the years to come.
In summary, We take Pride in your Satisfaction, and will work hard to earn your satisfaction.
Again, thank you for taking the time to stop in and visit us via the web. When you find yourself in need of a new piece of power equipment, need to have your currently owned equipment serviced or repaired, or you need to rent a piece of power equipment for a special job, we would appreciate the opportunity to serve you. Please visit our store at 638 Summer Street, Duxbury, Massachusetts soon.
Respectfully

,
Fred Simmons, Owner and General Manager
&
The Entire Staff Of
Fred's Duxbury Fix-It Shop Inc